CONTROL YOUR BLINDS AT HOME, AND AWAY FROM HOME
SETUP IN A MINUTE
MotionBlinds Bluetooth motors can be set up and programmed in a minute by smartphone, drastically simplifying installation, automation and control of motorized blinds. MotionBlinds Bluetooth safeguards 100% privacy: it works without bridge, without registration and without any cloud dependency.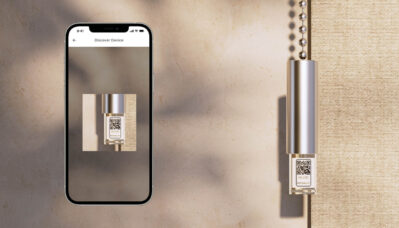 SCAN, CONNECT AND CONTROL
Window coverings with Bluetooth motors can be set up in a minute. Just scan the setup code through the MotionBlinds Bluetooth app. Follow a few simple steps in the app to complete setup and the blinds are ready to be controlled by smartphone.
AUTOMATE WITH TIMERS
Putting the blinds on autopilot is very easy by programming timers into the motor through the app. At scheduled times, blinds automatically move to their preset positions. To safeguard user privacy, all data and intelligence are strored locally on the motor, instead of relying on a cloud.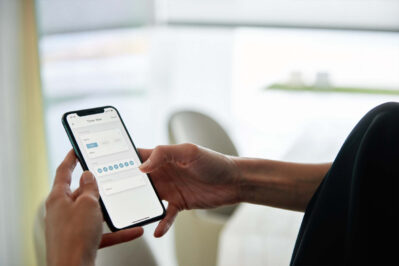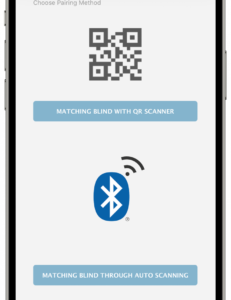 SCAN THE SETUP CODE
Open the MotionBlinds Bluetooth app once your window coverings are installed. Scan the setup code with the app and follow the instructions in the app to complete the setup.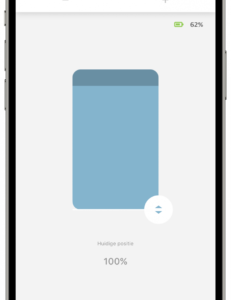 CONTROL BY SMARTPHONE
Now your window coverings can be operated with the MotionBlinds Bluetooth app. This works within a distance of up to 10 meters between the smartphone and the blind.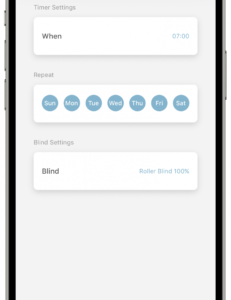 AUTOMATE WITH TIMERS
The MotionBlinds Bluetooth app allows you to program timers, making your window coverings open and close automatically at preset times.
THE MOTIONBLINDS BRIDGE
Install the MotionBlinds Wi-Fi bridge to connect blinds powered by Bluetooth motors to smart home systems such as Google, Alexa, SmartThings. This also allows app control from anywhere in the world, beyond Bluetooth range. The MotionBlinds Wi-Fi bridge works through a cloud connection and does require registration.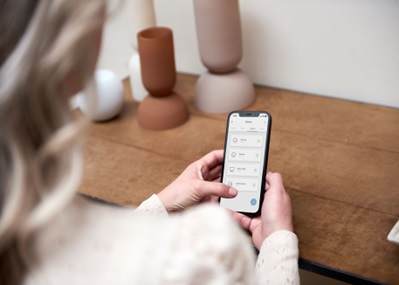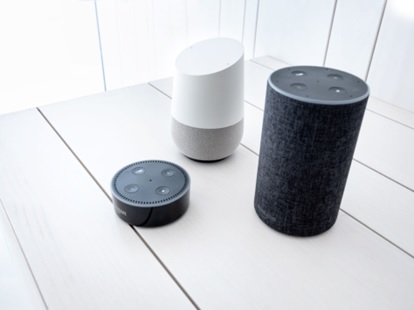 SMART HOME CONNECTIVITY
MotionBlinds technology works with leading smart home assistants. Because of these connections, window coverings powered by MotionBlinds can easily be integrated into smart homes and seamlessly work together with other smart devices with the goal of energy saving, increasing safety and providing convenience.
ENERGY EFFICIENCY
Smart window coverings create a healthy, pleasant and energy- efficient home. The smart blinds can be programmed to open and close at pre-set times or when the temperature hits a certain level to save on energy costs. In addition, they can also be easily automated with scenes and timers and talk to other smart devices in your smart home to ensure you always enjoy perfect lighting and indoor climate. Taking full advantage of the reflective and insulating properties of the window covering fabrics, this is the ultimate way of keeping heat in during the winter and warmth out during the summer. A must for any commercial or residential building.

SAFETY
MotionBlinds smart window coverings make the home safer in more ways than one. Firstly, you can make the home seem inhabited by setting a timer to automate blinds to open and close at certain times, even when you are on holiday. Preventing break- ins and giving you that peace of mind. Window coverings with MotionBlinds smart technology are cordless, which makes them ultra-safe for children and pets by preventing accidents. MotionBlinds smart motors can also be integrated with other smart devices in your smart home ecosystem such as locks, doorbells and cameras to guarantee ultimate safety in your home.
CONVENIENCE
Smart window coverings make life easier and more enjoyable. As part of a smart home ecosystem, where various smart devices work together, smart blinds move to the rhythm of your daily life and create the perfect atmosphere at any time of the day. This means you can wake up to natural daylight in the morning or create privacy at night with just a voice command. Making life more comfortable and convenient.